Name of the village is Sharukhai under Bondor Thana of Barisal Sadar Upazila. Here, Runu Begum was born on 11 February of 1973 in a poor family. She got married with Mr. Sobahan Nopti of the village Potang, before she crossed the primary level of education due to the poverty of her family.  Mr. Sobahan Nopti had no land of his own, so he farmed on other's land. Basically he was a sharecropper. It was very tough to maintain a joint family of six members including sick mother & father in law. Though her husband didn't have the mentality to do anything except farming, he planned for some other source of income besides farming. Runu Begum herself thought to do something but there was a very few scope of work for the women at village. While all the plans failed again & again, she started poultry at home to help her husband financially. By this time members of the family increased, they became parents of a beautiful female child. As the expenses of their family increased but the income remained same, so husband and wife took the decision to start a nursery at a ground near to their house. Their capital was low, so they started the nursery in a small scale. After that, they found monthly a very low profit after all the expenses of the nursery. They thought about more investment so they can have more profit. But what about the capital? Her father gave some financial support but that was very few against the need. As their expense was high against their income, the nursery was about to close up. They both became upset.
Runu Begum kept thinking about how to arrange money to save the nursery; she discussed the matter with her neighbor Asia Begum. She reassured her and told her that there is an organization at Shaheberhat market named Integrated Community Development Association (ICDA) who provides credit to people in a very simple condition. Under that branch, Chetona women group sits at my house & I'm the group leader of that group. Runu Begum became very much happy hearing that news, now her dream may come true permanently!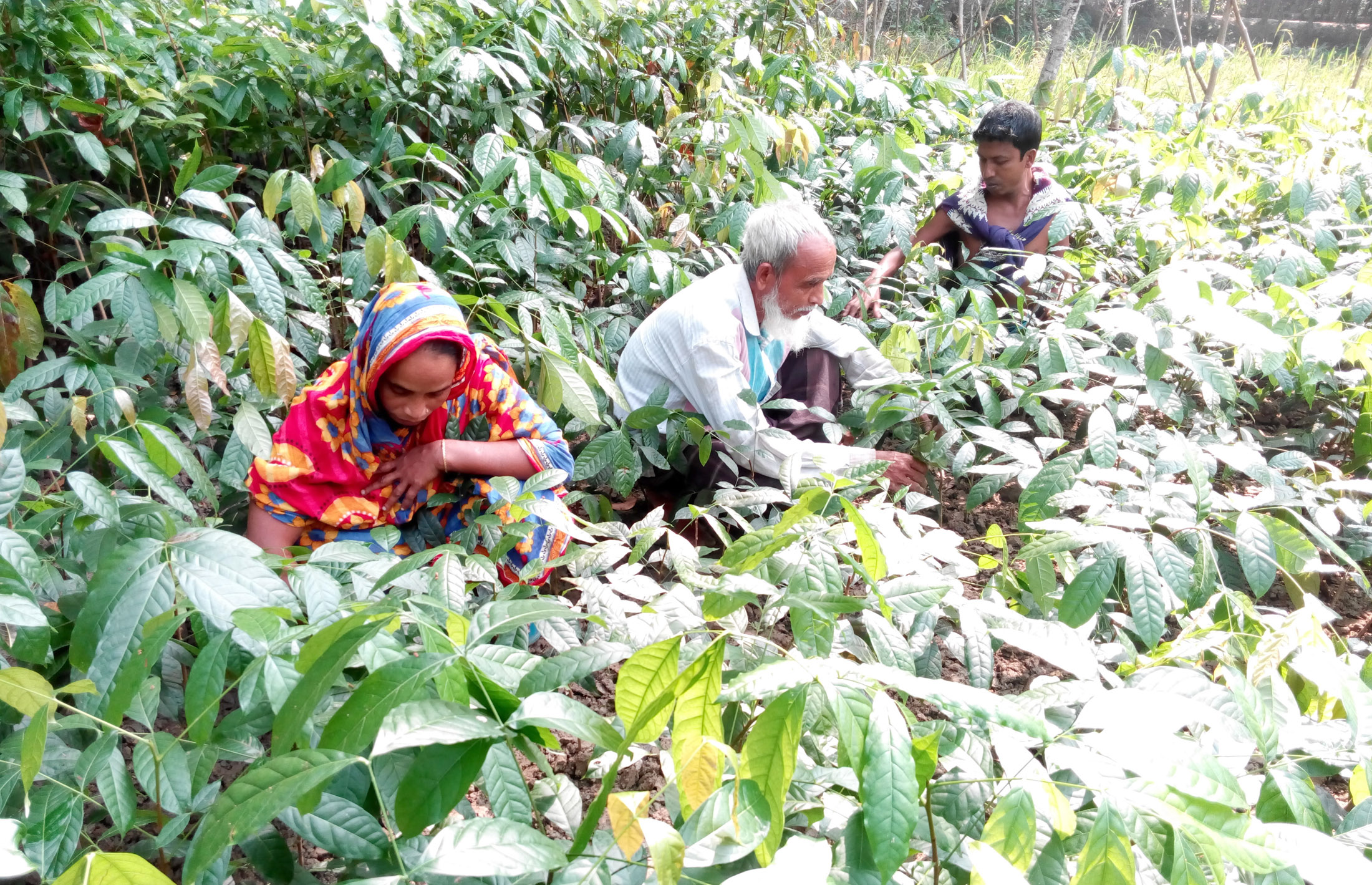 At that time, MFTS project was running and its service charge was 10%. Husband & wife both arrived at the weekly meeting place of Chetona women group, understood all the rules and regulations of the group and organization and got admitted in the group on 11/07/06. As per the rule, they got taka 5,000/- as primary loan for nursery business. They invested all the money to expand the nursery. Runu Begum's will power had increased. Her husband also encouraged her.  They added more 870 square fit land with previous 2175 square fit and started nursery work regularly by planting different types of trees. After that, she took part in different types of training arranged by the organization & moved one step forward to make her dream true. Till now, she took loan for nine times from the organization. Last time she took taka 80,000/- under Agrosor loan activities on 26/04/15. With this money she is operating   her nursery business at 10875 square fit land. Till now, she took taka 3,00000/- as loan for nursery activities. Yearly she earns near about taka 1,20,000/- as nit profit from the nursery business after all expenses. Five workers including husband & brother in law got sure employment at Runu Begum's nursery. Her business inspired lot of people and they also started their own nursery. By the financial & technical support of ICDA, ‍she won the struggle of life. She also won the poverty removing hundreds of obstacles in her life.