Aleya Parveen was the eldest among the 06 sons & daughters of poor farmer Isahak Howlader. Isahak Howlader had keen interest to build up his sons & daughters as educated. With the level best support of her father Aleya passed SSC examination in 1981. She wanted to devote herself to mankind after receiving her higher study. But being a poor farmer it was too much difficult for Isahak to continue Aleya's higher study. So Aleya stopped her study during higher secondary level. She joined as Family Planning Motivator in the Sher-E-Bangla Medical College Hospital in 1982 to maintain her family. Then they became solvent. She started her study besides her job. She passed the HSC examination in 1985. During the period she fell in love with Mr. Shirajul Haque who was completely workless. Aleya married Shirajul on 04 May 1987 with the consent of both families. Her husband was residing at a village named Dhubol under Bakergonj  Upazilla of Barishal district. But he shifted at Barishal with his wife. Aleya herself maintained the family as her husband was completely workless. Her husband could not gain any job although he was HSC passed. Meanwhile, Aleya was not salaried time to time as her service was transferred to development sector from revenue. Accordingly, she used to face financial problems to maintain her family. After passing 10 years  Aleya resigned her job & her husband joined himself as a service staff to Barishal Education Board. After getting job he stated to change his behavior. He often tortured his wife openly. However, he was almost irregular to his home. Aleya became confused about her husband. One day Aleya knew about her husband's second wife who was residing at Kawnia in Barishal. Aleya became shocked to hear this reality. Firstly, her husband denied about his second marriage but later on he informed the reality. Day by day Aleya  was being tortured both physically & mentally. Then Aleya decided to divorce her husband. Then Shirajul hit Aleya with a meat cutting chopper & Aleya became fatal injured. Aleya was admitted into Barishal Medical College Hospital to take medical care. After 06 months Aleya became cure being a disabled person. Aleya explained her pathetic life stating that only Allah has saved her life.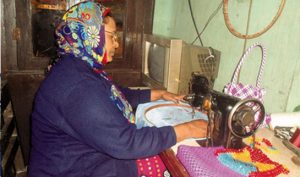 After that, Aleya started her struggle life. Even she did not have the rest of any opportunity. She lived a rented house. When she was in trouble to maintain her family she met Ms. Maksuda Akter (Field Officer of ICDA). Maksuda heard Aleya attentively & advised her to get admission into a group of ICDA. Accordingly, Aleya got the membership of ICDA on 12.01.2008. She started to save from the rest of the family maintenance cost which she earned by private tuition. She has not taken any loan as she was not able to repay. With the suggestion of FO Aleya received a loan of taka 9,000.00 & she purchased trade equipments.
Aleya started a new life. As a support her neighbors began to order frequently to Aleya for supply their daily usable garments items. Aleya purchased crest equipments, embroidery machine & other accessories with a loan of taka 15,000.00 after repaying her first scheme by selling her handmade items.
Today Aleya is well solvent with the financial support of ICDA. Her daughter is a nursing student & her son is a student of Class Nine of Barishal Technical School & College. Aleya passes her happy life. Her production items are being demanded day by day. Meanwhile, many women have made themselves capable in sewing & other trade venture to develop their lives by getting training from Aleya Perveen.